Our Driving Range has 35 tee stations and a grass section! We have covered and heated bays that are open year round, including 11 stations with Power Tee, an automatic teeing system. We have many targets for you to aim at and are presently creating several new raised greens for a realistic course like experience. We are constantly upgrading our mats and balls, so come by and check out the latest additions.

Large Bucket $14.00 97 balls

Medium Bucket $11.00 65 balls

Small Bucket $8.00 40 balls

Military Bucket $11.00 97 balls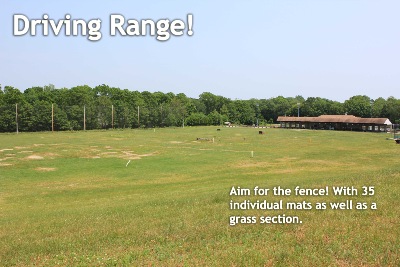 Batting Cages

We currently have 4 operating outdoor Batting Cage stations with nine different ball speeds. Five baseball speeds (35mph to 55mph) and four softball (Lob pitch to 55mph). The cages are all lighted for night play and are operated by tokens. Each token will give you 20 pitches.

One Token $3.00 20 balls

Two Tokens $5.00 40 balls

Five Tokens $10.00 100 balls

Twelve Tokens $20.00 240 balls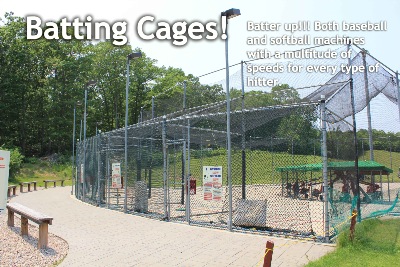 Great Brook Sports is very proud of its 18 hole Championship mini-golf course. Winding its way through a lushly lansdscaped hillside, complete with waterfalls and a large Koi Pond. The course will challenge your putting skills, while providing a feast for your eyes.

Adults $10.00 (13 & Over)

Seniors $9.00 (65 & Over)

Children $8.00 (5 to 12)

Toddlers FREE (4 & Under)

ASK ABOUT OUR GROUP & PARTY RATES!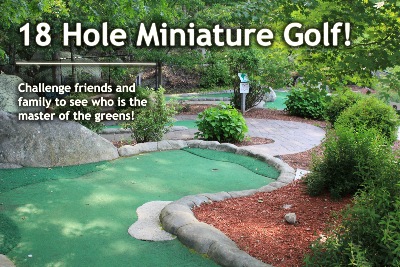 Virtual Golf Simulator

We have three high definiton golf simulators that are perfect for rainy days and cold weather! Stop by to check them out!

Each simulator supports up to four players and you can choose between dozens of popular championship courses.

There are options for several different types of play including scramble, stroke, and match.

They also include a practice mode where players can check their statistics and distance for each shot on a virtual driving range.

Wide Screen $45 per hour

Standard Screen $35 per hour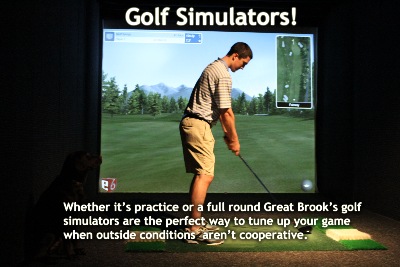 Golf Lessons

There are three professional golf instructors that offer lessons at Great Brook Sports. *Golf lessons are scheduled individually by each pro and can accomodate almost any time slot.

1/2 Hour Lesson $75.00

1 Hour Lesson $100.00

Please stop by or call us at 860-448- 0938 for more information!